BirdieBlue
Regular price
Sale price
$36.00 USD
Unit price
per
Sale
Coming soon
Why is it that we can never find what we are looking for in a backpack or a purse? BirdieBlue's patchwork, handmade pouches make it so you never have to dig around for your keys, phone, or lip balm ever again.
Made in three convenient sizes from 100% upcycled and recycled materials, The Birdie Pouch will keep you organized on all your adventures. Talk about Looking Good. Doing Good. and Feeling Good.
Features

We believe in fair labor wages, safe working environments, maintaining a sustainable and sourceable supply chain, and using ethically and sustainably sourced materials to produce the highest performance outdoor gear.

• Handmade in the USA
• Made from 100% upcycled, nylon ski wear 
• Water Resistant
• D Ring for easy clipping to key hooks inside bags or a wristlet for grab and go adventures
• Heavy duty zipper made from recycled plastic bottles
• Unique design: No two bags are exactly alike.
Care Instructions

Whenever your adventures begin to show on your gear, just throw your BirdieBlue into the washing machine. We recommend mild, environmentally conscious laundry detergent. Birdie is also safe to toss in the dryer on a low heat setting. 
Specs

Small Pouch
• Size: 3.75 x 5 inches
• Weight: 1 ounce

Medium Pouch:
• Size: 5 x 7 inches
• Weight: 1.1 Ounces

Large Pouch:
• Size: 8.5 x 12 inches
• Weight: 2.4 ounces 

Return policy

If you would like to return your BirdieBlue product, BirdieBlue will refund the amount to the original method of payment, or provide store credit within 30 days of placing your order.

For the safety of our staff, all returned products must be in unused condition with the tags still on. 

• BirdieBlue currently does not cover the cost of return or exchange shipping. 

• BirdieBlue only accepts returns with receipts or proof of purchase from BirdieBlue.

• BirdieBlue cannot process returns nor exchanges for items purchased from our retailers. Please refer to the retailer's return policy to return your merchandise.
Share
View full details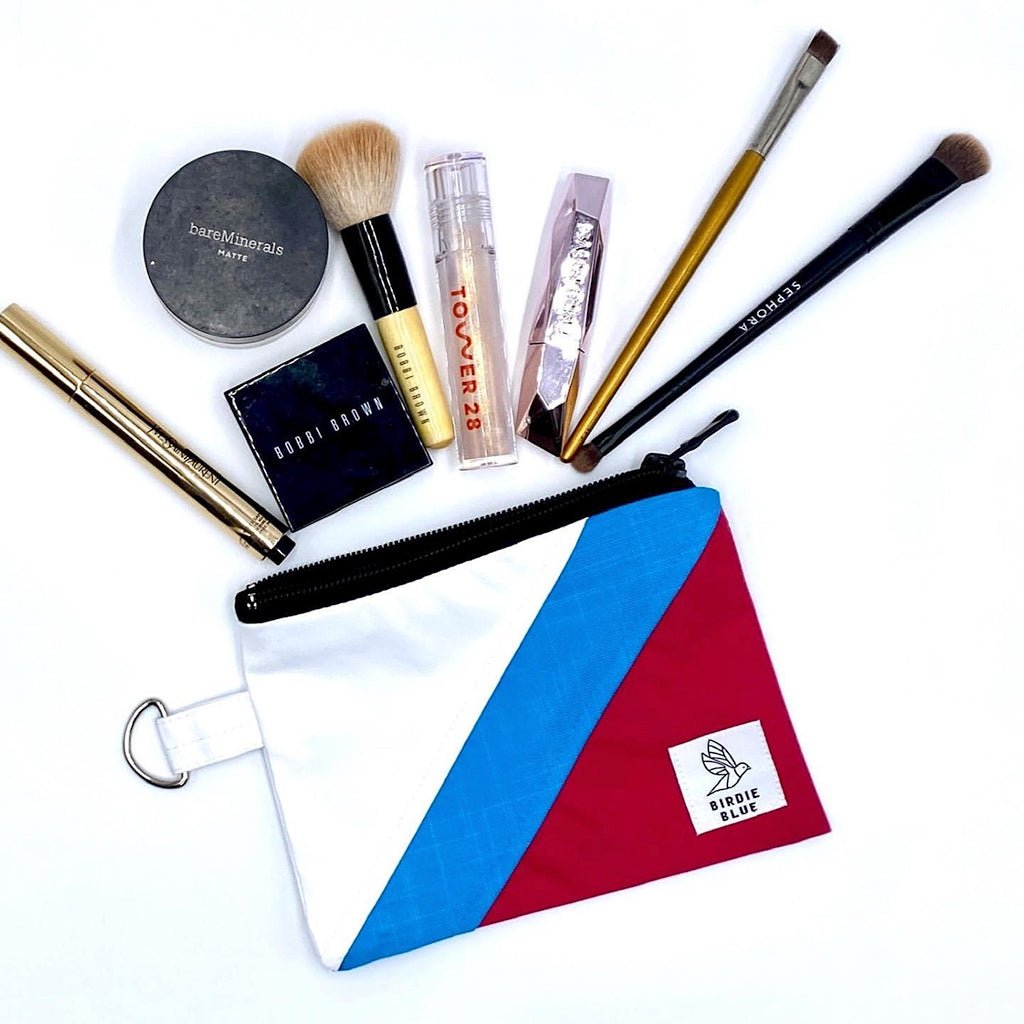 Our Mission

is to inspire adventure and protect Mother Earth by transforming discarded clothing and fabrics into handmade accessories.

learn more
How it Works
OLD CLOTHES

We keep old clothes and discarded fabrics out of landfills and give them new life...

Become New Bags

...by turning them into multifunctional, fun accessories...

HANDMADE IN USA

...designed and handmade by women...

Showing Love to Mother Earth

...protecting Bluebird adventures for generations to come.